Advil Minis Liquid Capsules
Advil Minis Liquid Capsules are 23% smaller*, providing fast pain relief on the go with a handy carry bottle!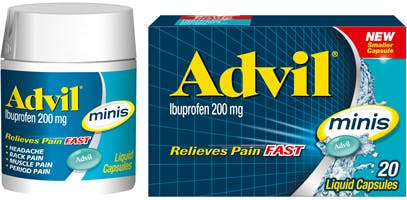 Product Features
Fast acting pain relief that is 23% smaller*
For fast, effective pain relief for headaches, choose Advil Minis
Easy to swallow
Absorbed faster than standard Ibuprofen tablets**
Product Description
Advil Minis Liquid Capsules is absorbed faster than standard ibuprofen tablets** & is 23% smaller* for easy to swallow fast relief of headaches and many other types of pain.
What Does it Relieve?
Advil Minis Liquid Capsules provides temporary relief of pain, discomfort and/or inflammation associated with:
Advil Minis Liquid Capsules also reduce fever.
Active Ingredient
Each liquid capsule contains ibuprofen 200mg
Dosage information
For use by Adults and Children from 12 years and over. Take 1 or 2 capsules swallowed whole with water.
Repeat dose if necessary after 4 to 6 hours.
Do not exceed 6 capsules in 24 hours.
20, 40, 90 count liquid capsules in bottles
20 count bottles are available in both pharmacy and grocery retail outlets
40 and 90 count bottles are only available in pharmacy retail outlets
*Volume comparison against Advil Liquid Capsules AUST R 97229.
**Kellstein, David et al. Different formulations of ibuprofen liquid capsules have different absorption profiles J Clin Pharmacol; 47; Abstract 91(2007) Sponsored by Wyeth Consumer Healthcare