Children Pain & Fever Relief
Advil provides a range of ibuprofen-based children's pain and fever relief products that come in different flavours, formats, sizes to suit the changing tastes and pain and fever relief needs of infants from 3 months up to children 12 years of age.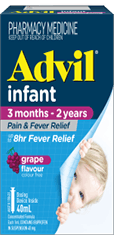 Advil Infant Pain & Fever Relief is a great tasting grape flavoured concentrated liquid ibuprofen suspension formulated to reduce fever and pain in babies aged between 3 months to 2 years.

This is an ibuprofen based product that comes as a tasty strawberry-banana flavoured, sugar free and colour free suspension. It provides up to 8 hour fever relief, and relieves common aches and pains in children.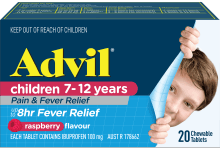 This product is a tasty raspberry flavoured ibuprofen based chewable tablet formulated for children aged 7-12 years that provides pain and fever relief for growing kids.