Advil Infant's Suspension
Great tasting grape flavoured concentrated liquid ibuprofen suspension formulated to reduce fever and pain in babies aged between 3 months to 2 years.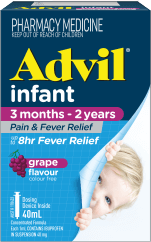 Product Features
Up to 8 hours fever relief
Delicious, colour-free grape flavour
Concentrated formula
Effectively relieves babies' common aches and pains
Dosing device included
Product Description
Advil Infant Pain & Fever Suspension contains ibuprofen, and reduces temperature for up to 8 hours. Its delicious grape flavour comes as a concentrated formula, so you don't have to give your child as much liquid compared to regular suspensions.
It provides effective relief from pain and fever, including fever associated with immunisation.
What Does it Relieve?
Advil Infant Pain & Fever Relief Suspension reduces fever temperature for up to 8 hours including fever associated with immunisation.
It also provides temporary relief of pain associated with:
Symptoms of Colds & Flu
Minor aches
Sprains & strains
Active Ingredient
Each 1mL suspension contains ibuprofen 40mg
Who can use this product
Infants 3 months to 12 months (under doctor's advice)
Children 1 to 2 years
Do not use for infants under 3 months and/or weighing less than 6kg See also Product Comparison
Dosage information
Dosage based on 5-10 mg/kg/dose:
Who
Avg. Body Weight
How Much
Time between each dose
Maximum no. of Doses
3 to under 6 months
6 - 8 kg
1.5mL
Every 6-8 hours as necessary
4 doses in 24 hours
6 to under 12 months
8 - 10 kg
2mL
1 to 2 years
10 - 12 kg
2.5mL
Shake bottle before use.
A dosing device is included with this product for accurate dose measurement.
Wash measuring device after each use.
For precautions, warnings and contraindications please refer to the carton.
40mL bottle with dosing device
Advil Infant Pain & Fever Relief Suspension is only available in pharmacy retail outlets