Advil Liquid Capsules
Don't let pain stop your day. Get fast and effective pain relief when you need it most with fast-acting Advil Liquid Capsules.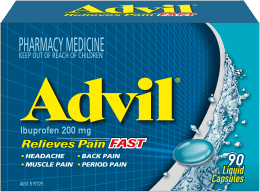 Product Features
Fast-acting pain relief
Relieves acute pain associated with inflammation
Liquid form of ibuprofen in a soft capsule shell
Absorbed faster than Advil Tablets
Relieves fever
Product Description
Advil Liquid Capsules get absorbed quickly to relieve many aches and pains fast. It contains 200mg of ibuprofen in a liquid form inside a soft capsule shell. Because it is already in this format, each Advil Liquid Capsule is absorbed into your system faster compared to regular ibuprofen tablets.*
What Does it Relieve?
Advil Liquid Capsules temporarily relieves pain and discomfort from common pains such as:
Advil Liquid Capsules temporarily relieves acute pain where inflammation is present such as:
Advil Liquid Capsules also reduce fever.
Active Ingredient
Each liquid capsule contains ibuprofen 200mg
Dosage information
For use by Adults and Children from 12 years and over. Take 1 or 2 capsules swallowed whole with water.
Repeat dose if necessary after 4 to 6 hours.
Do not exceed 6 capsules in 24 hours.
20, 40, 90 count liquid capsules in bottles
20 count bottles are available in both pharmacy and grocery retail outlets
40 and 90 count bottles are only available in pharmacy retail outlets
References : *Kellstein, David et al. Different formulations of ibuprofen liquid capsules have different absorption profiles J Clin Pharmacol; 47; Abstract 91(2007) Sponsored by GSK.